Common Stock: Salada Foods
Current Market Price: $7.90 JMD
Market Capitalization: $8.2 Billion JMD ($53.3 million USD)
*All values in this article are expressed in Jamaican Dollars (JMD) unless otherwise noted.
**The bulk of this analysis is based on the company's most recent audited financial report, which can be found by following this link.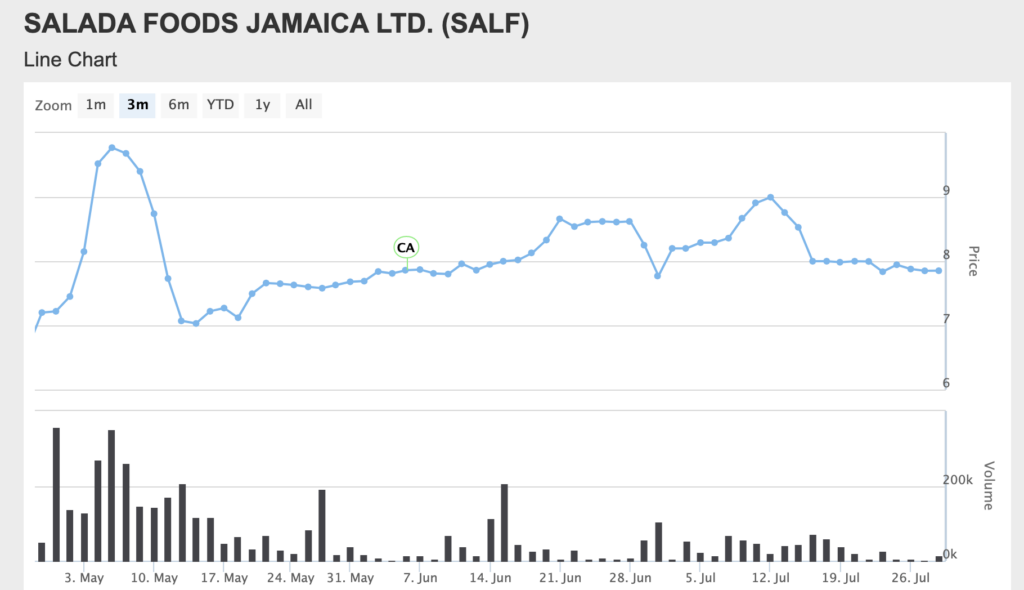 Salada Foods Stock – Summary of the Company
Salada Foods is a Jamaican food and beverage company. Their main focus is coffee products, mainly their flagship brand, Mountain Peak. They are the largest coffee processor in Jamaica and the only soluble coffee processor in the Caribbean. In addition to coffee products the company also offers tea and cocoa products. In 2013, in an effort to diversify, the company acquired the Roberts brand, which offers canned foods, sauces, and beans, among other food products.
Salada was founded in 1958 and is headquartered in Kingston, Jamaica. The company has been listed on the Jamaican stock exchange since its inception in 1969.
Revenue and Cost Analysis
For the fiscal year end September 2020, the company had total revenues of $1.06 billion, a slight decrease from $1.11 billion in 2019. Their COGS in 2020 was $773 million, representing a gross margin of 28%, a decrease from 32% in 2019.
The company was profitable in each of the last two years. In 2020 Salada had net income of $110.5 million, representing a profit margin of 10%, a decrease from 13% in 2019.
The decline in gross and profit margins year over year is due mostly to supply chain restrictions due to the corona virus. This forced the company to use higher priced green coffee beans when manufacturing its flagship products.
Balance Sheet Analysis
Salada Foods has a strong balance sheet. They have a solid long term plant assets, a strong near term liquidity position, and no debt.
Debt Analysis
As of year-end 2020 the company does not have any debt outstanding.
Salada Foods Stock – Share Dynamics and Capital Structure
In March 2021 the company underwent a 10 for 1 stock spilt, increasing total shares outstanding from 103 million to 1.03 billion common shares outstanding.
Dividends
The company paid total dividends of $124.6 million in 2020. After accounting for the stock spilt, this equates to a dividend per share of $0.12 cents. At the current market price this implies a dividend yield of 1.5%.
Salada Foods Stock – 3 Metrics to Consider
Debt to Equity Ratio
Total Liabilities/Total Share Holder Equity
$149 million / $941 million = .16
A debt to equity ratio of .16 indicates that Salada Foods uses very little debt in its capital structure and relies almost entirely on equity financing for funding.
Working Capital Ratio
Current Assets/Current Liabilities
$749 million / $149 million = 5
A working capital ratio of 5 indicates a very strong liquidity position. Salada Foods should not have problems meeting its near term obligations.
Price to Book Ratio
Current Share Price/Book Value per Share.
$7.90 / $0.91 = 8.7
Accounting for the stock split, Salada Foods has a book value per share of $0.91. At the current market price this implies a price to book ratio of 8.7, meaning the company's stock currently trades at a significant premium to the book value of the company.
Salada Foods Stock – Summary and Conclusions
Salada Foods is a strong company. They are uniquely positioned in the Caribbean as the largest coffee processor in Jamaica and the only soluble processor in the Caribbean. The company is sound financially, with sufficient liquidity, no debt, and a profit. Management returns capital to shareholders via a dividend.
The stocks doesn't look cheap based on dividend yield and price to book metrics, but the company's strong strategic position has the potential to create value for shareholders long term. In the short term I am not sure how the company will perform. On one hand a recovery from abnormal results due to the corona virus could boost the stock. On the other hand increasing coffee prices could continue to put downward pressure on margins.
I will wait and revisit the company when its 2021 results are available. Investors can also consider Jamaican poultry company, Jamaica Broilers.
Disclaimer
This is not investment advice. Nothing in this analysis should be construed as a recommendation to buy, sell, or otherwise take action related to the security discussed. If I own a position in the security discussed, I will clearly state it.
This is not intended to be a comprehensive analysis and you should not make an investment decision based solely on the information in this analysis. I hope this serves as a useful starting point for a more comprehensive analysis, and hopefully draws attention to aspects of the company that were overlooked or merit further investigation. This is by no means intended to be a complete analysis. Again, this is not investment advice, do your own research.