Common Stock: Supreme Ventures Limited
Current Market Price: $20.00 JMD
Market Capitalization: $52.7 billion JMD ($343 million USD)
*All values in this article are expressed in Jamaican Dollars (JMD) unless otherwise noted.
**The bulk of this analysis is based on the company's most recent audited financial report, which can be found by following this link.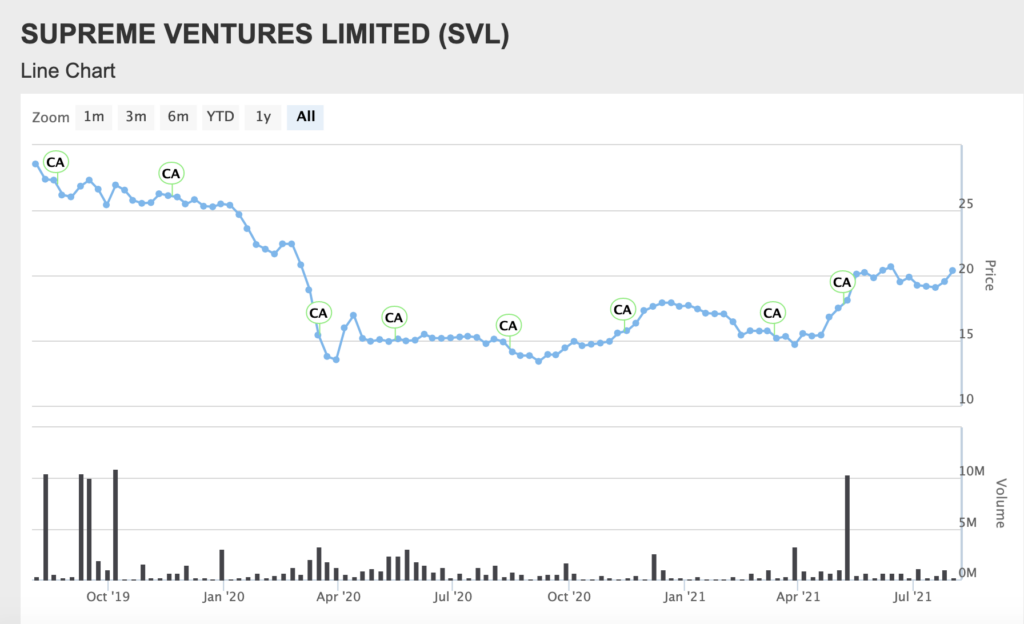 Supreme Ventures Stock – Summary of the Company
Supreme Ventures Limited is a Jamaican gaming (gambling) and entertainment company. The company offers 11 numbers games, sports betting, gaming lounges, as well as other entertainments. Their games are offered in over 1,200 retail locations and they also operate 7 of their own locations. Their main focus is Jamaica, but they are growing internationally, particularly in Guyana.
The company was founded in 2001 and is headquartered in Kingston, Jamaica. They employ over 500 people.
Revenue and Cost Analysis
Supreme Ventures Limited had total revenue of $39.4 billion in 2020, an increase from $38.5 billion in 2019. Their COGS was $30.6 billion in 2020, representing a gross margin of 22%, on par with its gross margin in 2019.
The company has been consistently profitable. In 2020 Supreme Ventures had net income of $2.4 billion, representing a profit margin of 6%, equal to its profit margin in 2019.
The lottery segment is by far the company's most important business line, which accounted for 69% of revenues in both 2019 and 2020.
Although brick and mortar, as well as sports betting were difficult in 2020 due to the coronavirus, registrations for the company's mobile app increased 500% in 2020.
Balance Sheet Analysis
Supreme Ventures has a sound balance sheet. Their near term liquidity position is strong and they have a solid base of long term assets. Debt levels are relevant, but reasonable.
Debt Analysis
As of year-end 2020 the company has $5.2 billion in total debt outstanding, $224 million of which is classified as current.
Supreme Ventures Stock – Share Dynamics and Capital Structure
As of year-end 2020 Supreme Ventures has 2.6 billion common shares outstanding.
The company's 10 largest shareholders own a combined 75.3% of the company.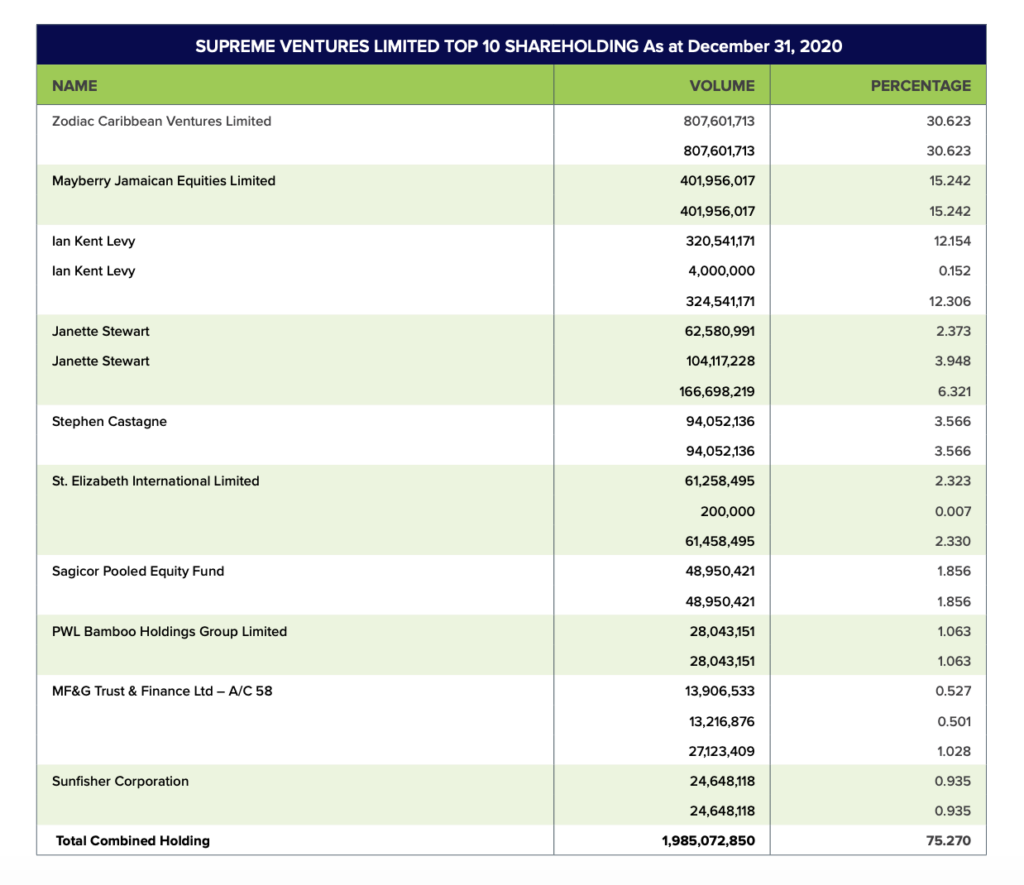 Dividends
The company paid total dividends of $.80 cents in 2020. At the current market price this implies a dividend yield of 4%.
Management – Skin in the game
Insiders and company directors own a significant participation in Supreme Ventures Limited, around 54.5%. Some of their holding are via company's and funds listed in the 10 largest shareholder graph above.
Supreme Ventures Stock – 3 Metrics to Consider
Debt to Equity Ratio
Total Liabilities/Total Share Holder Equity
$9.6 billion / $6 billion = 1.6
A debt to equity ratio of 1.6 indicates that Supreme Ventures uses a mix of debt and equity in its capital structure, but is leveraged, and relies more heavily on debt financing for funding.
Working Capital Ratio
Current Assets/Current Liabilities
$8.1 billion / $4.1 billion = 2
A working capital ratio of 2 indicates a strong liquidity position. Supreme Ventures should not have problems meeting its near term obligations.
Price to Book Ratio
Current Share Price/Book Value per Share.
$20 / $2.26 = 8.8
Supreme Ventures has a book value per share of $2.26. At the current market price this implies a price to book ratio of 8.8, meaning the company's stock currently trades at a significant premium to the book value of the company.
Supreme Ventures Stock – Summary and Conclusions
Supreme Ventures Limited is an intriguing company. Gambling and sports betting stocks are in vogue, with many investors enchanted by American companies like Penn gaming and DraftKings. Supreme Ventures is unique in the sense that it has a diversified gaming offering that includes sports betting, number games, and slot machines at retail locations. They are also interesting since they dominate the Jamaican market where they operate.
The company is in good financial health, with sufficient near term liquidity, growing revenues, and profits. They return capital to shareholders via a dividend.
Given the significant growth in the company's digital app, on top of an already solid business, Supreme Ventures looks like a solid investment opportunity. I would like to look at a few other public gaming company's before making a final decision, but Supreme Ventures Stock is on the top of my watch list.
Investors can also consider other Jamaican stocks, such as Berger Paints.
Disclaimer
This is not investment advice. Nothing in this analysis should be construed as a recommendation to buy, sell, or otherwise take action related to the security discussed. If I own a position in the security discussed, I will clearly state it.
This is not intended to be a comprehensive analysis and you should not make an investment decision based solely on the information in this analysis. I hope this serves as a useful starting point for a more comprehensive analysis, and hopefully draws attention to aspects of the company that were overlooked or merit further investigation. This is by no means intended to be a complete analysis. Again, this is not investment advice, do your own research.