Common Stock: Compañía de Cervecerías Unidas (CCU)
Current Market Price: $6,600 CLP
Market Capitalization: $2.4 Trillion CLP
*All values in this article are expressed in Chilean Pesos (CLP) unless otherwise noted.
**The bulk of this analysis is based on the company's most recent audited financial report, which can be found by following this link.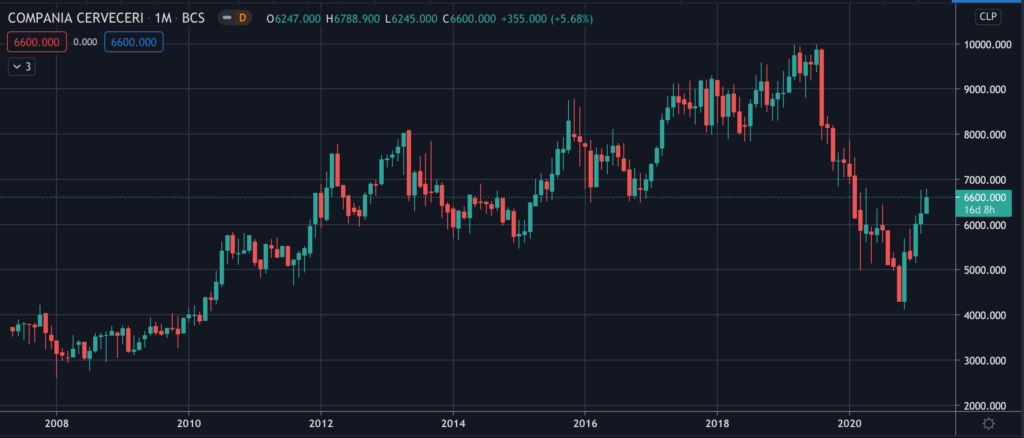 Compañía de Cervecerías Unidas (CCU) Stock – Summary of the Company
Compañía de Cervecerías Unidas (CCU) is a Chilean multi category beverage company, focused mainly on alcoholic beverages. Their product portfolio includes beer, wine, pisco, soft drinks, water, and nectars among others. The company has operations in Chile, Colombia, Paraguay, Uruguay, Bolivia, and Argentina. They currently employ around 9,000 people.
CCU as it is constituted today was founded in 1902, but the company can trace its history back to 1850. The company is headquarters in Santiago, Chile.
Revenue and Cost Analysis
CCU had revenue of $1.82 trillion in 2019, an increase from $1.78 trillion in 2018 and $1.69 trillion in 2017. Their COGS was $908 billion in 2019, representing a gross margin of 50.1%, a slight decrease compared to 51.7% in 2018 and 52.9% in 2017.
The company was profitable in each of the last three years. In 2019 CCU had net income of $145.6 billion, representing a profit margin of 7.9%.
Balance Sheet Analysis
CCU has a sound balance sheet. They have a solid base of long term assets and sufficient near term liquidity. The company is not leveraged and liability levels appear reasonable.
It is worth noting that the company uses derivative instruments, mostly currency forwards, to hedge its currency exposures. Investors should analyze this derivatives book in detail before investing.
Compañía de Cervecerías Unidas (CCU) – Debt Analysis
As of year-end 2019 the company has $330.2 billion in total debt outstanding, $68.4 billion of which is classified as current.
Compañía de Cervecerías Unidas (CCU) Stock – Share Dynamics and Capital Structure
As of year-end 2019 the company has 369.5 million common shares outstanding. Their 10 largest shareholders own a combined 94.6% of the company.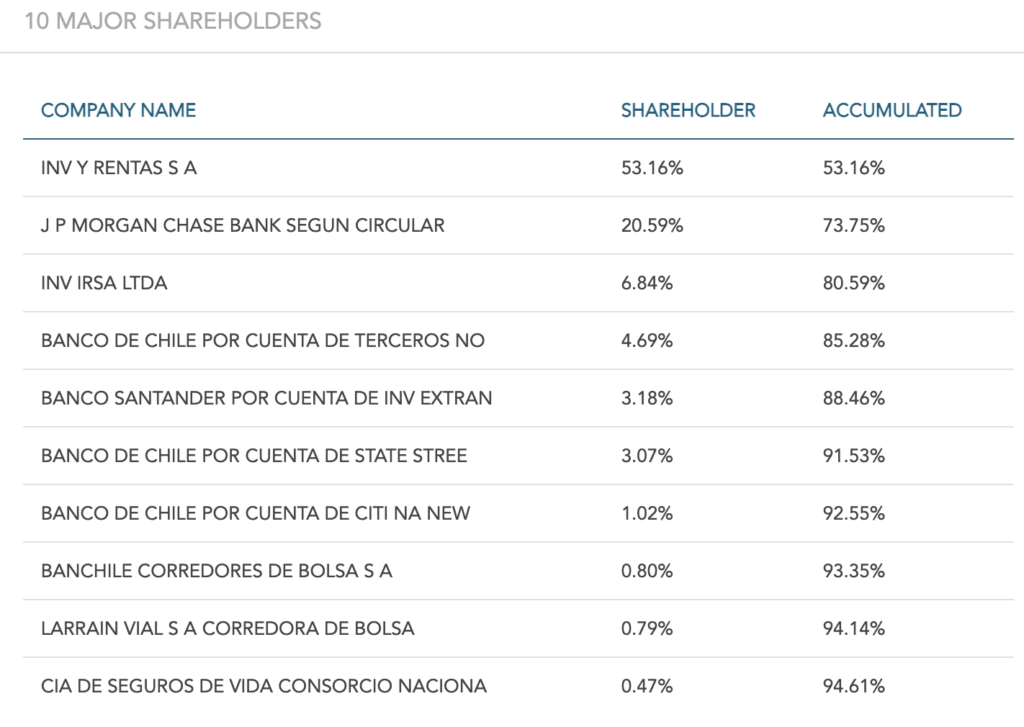 Compañía de Cervecerías Unidas (CCU) Stock – Dividends
In 2019 the company paid total dividends of $75 per share. At the current market price this implies a dividend yield of 1.1%.
Compañía de Cervecerías Unidas (CCU) Stock – 3 Metrics to Consider
Debt to Equity Ratio
Total Liabilities/Total Share Holder Equity
$911 billion / $1.4 trillion = .63
A debt to equity ratio of .63 indicates that CCU uses a mix of debt and equity in its capital structure, but is not leveraged, and relies more heavily on equity financing for funding.
Working Capital Ratio
Current Assets/Current Liabilities
$789 billion / $483 billion = 1.6
A working capital ratio of 1.6 indicates a sufficient liquidity position. CCU should not have problems meeting its near term obligations.
Price to Book Ratio
Current Share Price/Book Value per Share.
$6,600 / $3,905 = 1.7
CCU has a book value per share of $3,905. At the current market price this implies a price to book ratio of 1.7, meaning CCU stock currently trades at a premium to the book value of the company.
Compañía de Cervecerías Unidas (CCU) Stock – Summary and Conclusions
CCU is a very solid company. They dominate the Chilean market and are very relevant in Argentina. They have a long history of success and a diversified product and brand portfolio. The company is in sound financial health, with low leverage, sufficient liquidity, and consistent profits.
I haven't found many alcoholic beverage companies with the size and scale of CCU, that aren't already owned by larger companies such as AB InBev. CCU stock appears to be investable for long term buy and hold investors. But I will wait for their 2020 financials before making any decisions.
Investors can compare CCU stock to Chilean Coca-Cola distributor Andina.
Disclaimer
This is not investment advice. Nothing in this analysis should be construed as a recommendation to buy, sell, or otherwise take action related to the security discussed. If I own a position in the security discussed, I will clearly state it.
This is not intended to be a comprehensive analysis and you should not make an investment decision based solely on the information in this analysis. I hope this serves as a useful starting point for a more comprehensive analysis, and hopefully draws attention to aspects of the company that were overlooked or merit further investigation. This is by no means intended to be a complete analysis. Again, this is not investment advice, do your own research.